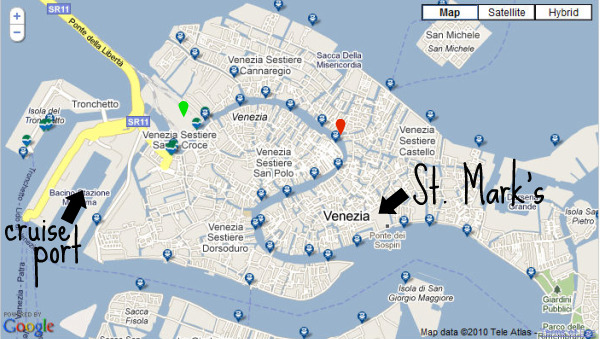 Spending time in Venice is one of the highlights of our trip, so we want to maximize our visit without wasting time or money in getting around. We know that traveling on the canals is part of the adventure of Venice, but we do have some scheduled activities that we need to be on time for and we certainly don't want to be late for the ship's departure!
There are several options for getting from the cruise terminal in Venice to where the main action is, Piazza San Marco, aka St. Marks Square. We found a
site
that outlines the possibilities from walking (most time, least money) to water taxis (most expensive) and combinations in between. The cruise line will provide transportation for any excursions booked through them, and they have an option of just transportation to and from St. Marks Square for $49 a piece, or we can get a 24-hour Vaporetto ticket for 18 Euro each. The Vaporetto is Venice's water bus system, and their
routes
take you all over the Venice waterways. We think we'll skip the gondola rides at about 80 euro per gondola, but we read that you can sometimes get a gondola to ferry you across the canal for 1 euro each, so we may look for that as a way to still get to experience a gondola.
Once we're out of the cruise terminal area, many of the sites that tourists are interested in can be reached on foot. We are planning to go over to
Murano to see the glass makers
on the first afternoon as part of a DCL sponsored excursion, but we have tickets to tour Doge's Palace and participate in their
Secret Itinerary
tour on the morning of our second day, so we have to figure out how to get there from the ship on our own.
We've had friends who have recently been to Venice share their tips for getting around, but if you have some to offer, please leave them in the comments!